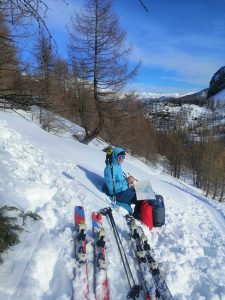 Valle Maira in February 2023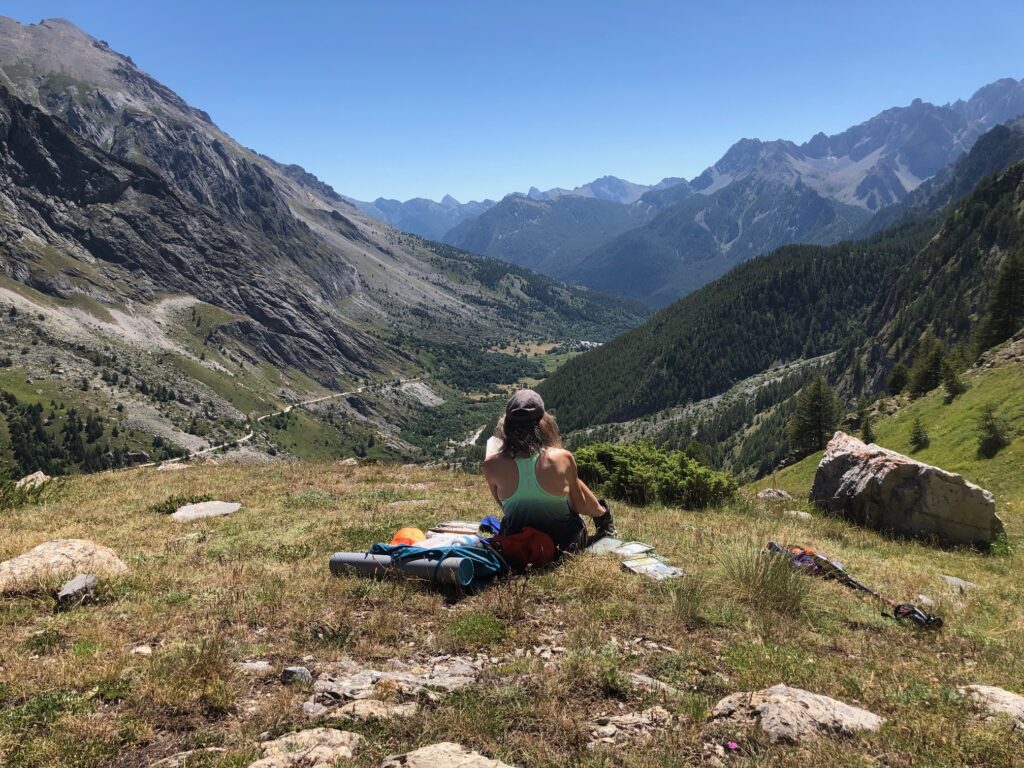 Painting in Valle Maira in the Italian Alps, in August 2020
Born in the U.S., Janet Johnson grew up amid the rolling hills and lush farmland of central Pennsylvania, beginning her lifelong fascination with the landscape.
Educated at the Tyler School of Art and Villa Schifanoia Graduate School of Fine Art in Florence, Janet studied first-hand the masterworks of Italian painting and sculpture. That experience fueled her desire to present themes of beauty in a figurative style.
The dramatic landscape art of the Romantic period is an important influence on the artist's portrayal of the landscape. In a similar way, Janet envisions the profound experience of nature: as a source of pleasure and sensuous beauty as well as spiritual uplift.
The expansive mountain scene is a hallmark of the artist's style. The mountain landscape is framed as a metaphor for the larger journey of life. Against this backdrop the artist portrays moments of serene contemplation, as well as scenes of action that highlight moments of courage in a challenging environment.
In her nocturne works, the artist explores the ephemeral beauty of the landscape at night. Evoking a dream-like mood, the artist takes the viewer into a transcendent moment where snowy peaks shimmer against the night sky, lit by the moon and stars above.
Janet Johnson's paintings are held by collectors worldwide: in England, Europe, North America, and Asia. Her work is profiled in the book, The Artists of the Alpine Club, by Peter Mallalieu.
 EXHIBITIONS
The Alpine Club London
"A Wider Landscape', 2022
'Mountains and the Sea: Svalbard and Northern Norway,' 2018.
'Glory of the Glacier,' 2016.
'Encounters with Rock, Snow, and Ice,' 2015.
'The Haute Route,' 2010.
Fosse Gallery Stow-on-the-Wold, Gloucestershire
Landscape scenes selected for seasonal group exhibitions from Winter 2016.
Royal Watercolour Society, Bankside Gallery London
Works chosen for the Open Competition. Exhibitions in 2011, 2013, 2017 and 2019.
Solo Exhibitions
Solo show: Smith & Williamson corporate office London, 2019.
'Arolla Sublime,' Grand Hôtel & Kurhaus, Arolla, Switzerland, 2015 to 2017.
'Alpine Paintings,' Parkhotel Beau Site, Zermatt, Switzerland, 2011 to 2012.
'Haute Route – Alpine Paintings,' Hôtel de la Couronne, Argentière, France, 2011 to 2012.
'Art in the Office,' Boston Consulting Group, London 1996.
Young & Rubicam, London 1992.
Solo Show: The Orangery in Holland Park, London 1991.
Solo Show: Morley Gallery, Southwark London 1988.
Selected  Group Exhibitions
Discerning Eye 2021 three oil paintings selected
New English Art Club Annual Exhibition 2021
Discerning Eye 2017 selected
Not the Royal Academy LLewellyn Alexander Gallery London
Wellbeing Charity Sale – The Charity for Civil Servants / organized by The Art Movement – at Bonhams and Phillips auction houses London in 1997 and 1998
Royal Academy Summer show 1994 selected
Spectator Art Award, 'Reflections' theme, Christie's auction house in London and Edinburgh 1993.
Laing Art Competition at Mall Galleries, 1992 and 1994.
Hunting Group Art Prizes, Mall Galleries 1986.
Miniprint Internacional-Cadaques, Barcelona, Spain 1983 and 1987.
XIII Il Premio Diomira 1981 – Nazionale del Disegno (drawing competition), Milan Italy 1981
Selected Gallery Exhibitions in the Past

Jane Newbery, Dulwich, The Honor Oak Gallery, London, Creaser Gallery Portobello London, Stephen Bartley Gallery in Kings Road, Moreton Street Gallery Pimlico, The Osborne Studio Gallery in Covent Garden, Wingfield Sporting Art London, Equus Art in Newmarket, Beatrice Royal Gallery in Southampton.
Photo credits  Phil Polglaze for Nunhead Art Trail,  Mel Watson